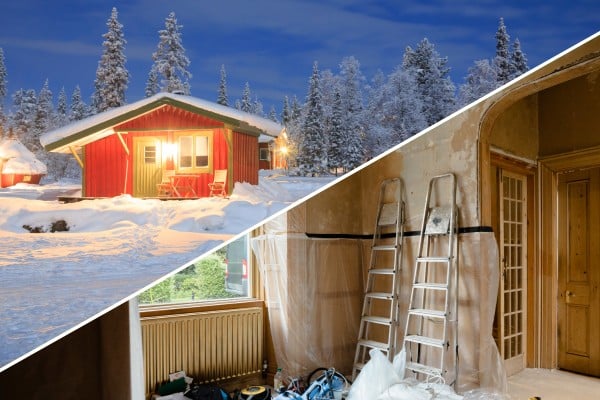 11 Jul

Thinking Of A Trip Or Home Renovation? Tips To Enjoy Winter!

Ready to escape the winter blues? Whether you're planning to revamp your home with a winter renovation project or dreaming of getting away on a winter holiday, take a look at these helpful tips to get the most out of the winter weather, along with finance options to help with the costs.
Prepare your home for winter
Keeping your family healthy during winter means ensuring your home is warm, dry and free of condensation, while installing energy-efficient heating and insulation helps avoid expensive power bills. If your home isn't winter-ready yet, plan a winter renovation project to get your home warm and dry, and ready to face the challenges of the season.
Here are some essential tips:
Weatherproof windows and doors: Windows and doors that don't seal properly can make it harder and more expensive to heat your home. Use self-adhesive weather strips from your local hardware store that are easy to fit yourself, to seal any gaps or cracks around windows and doors to reduce draughts and prevent heat-loss. Inside your home, use draught stoppers along the floor to seal gaps under doors or, if your budget allows, retrofit double glazing on windows to prevent heat loss, or install a home ventilation system to reduce condensation which will help keep your home warm and dry, and easier to heat.
Install home insulation and maintain your heating system: Adding insulation to walls, ceilings, and crawl spaces can help keep your home warm, dry and make your heating system more energy efficient. If you already have a heating system installed, now's a good time to clean the filter in your heat pump, dust off your heaters, book a professional chimney sweep to clean out the flue on your fireplace, and check that all electrical heating appliances are in safe working order. Swap outdated heaters for an energy efficient heat pump to maximise the heat inside your home without impacting your budget. Find out if you're eligible for a Warmer Kiwi Homes grant to cover the cost of installing insulation in ceilings and underfloor, as well as the cost for a heating system.
Blocked gutters can cause water to back up under eaves and down internal walls that could lead to damp walls, mould growth and foundation damage. Check roofing, gutters, and downpipes for signs of damage and clear out leaves, debris, and plant material from spouting to avoid any blockages. Clear outside drains so rainwater can flow freely away from your home.
Trim back overhanging tree branches near windows, roof, and gutters to prevent damage and to maximise the winter sun. Check that trees are not touching power lines and call an expert to help cut back trees and prevent power outages due to lines being knocked down.
Cover outdoor furniture or store it in the garage or shed, and secure trampolines in case of high winds. Pack away garden tools and equipment that won't be used over the winter season.
Check smoke alarms and change batteries to ensure your home is prepared in the event of a house fire.
Plan a winter escape
If you're craving a break from the winter blues, planning a winter holiday may be a solution. Whether it's a tropical island holiday, an exciting city escape, or a snowy ski resort adventure, here's how to make the most of your winter getaway:
Research before you go: Read online reviews, get recommendations from family and friends, plan transport, accommodation, and sightseeing, check the weather, and decide what you need to take with.
Determine your budget: Use online booking sites or contact a travel agent to get a realistic idea of how much your holiday plans are going to cost. Planning a budget will help you avoid overspending and ensure you don't encounter any expensive surprises. Struggling to save? No problem, consider a Holiday Loan to help pay for holiday expenses like flights or accommodation
Buy travel insurance: Ensure you're protected should something go wrong, with travel insurance that covers delays, changes, or cancellations of plans, as well as medical bills and lost belongings, and keep you and your family safe during your winter break.
Beat the winter blues
Dark mornings, darker evenings, and cold, grey days mean winter has arrived, and with the coldest season comes the winter blues. Instead of succumbing to the dreariness of winter, beat the winter blues by planning a home renovation project or a winter holiday escape. Talk to a Max Loans' Personal Lending Adviser about NZ loans to help with the costs. Whether you need cash in a hurry for an urgent expense, a holiday loan for a winter break, or a home improvement loan to get your home winter-ready, the team at Max Loans can help.
If you are a homeowner planning for home improvements, your bank could offer incentives through lower interest rate or often 0% interest rates for you to complete healthy home and energy efficiency improvements. Contact a Max Mortgages Adviser to learn more and we could help advise the types of loan facilities that are available.
Apply Now
Find this article helpful? Don't forget to like it or share it on Facebook.