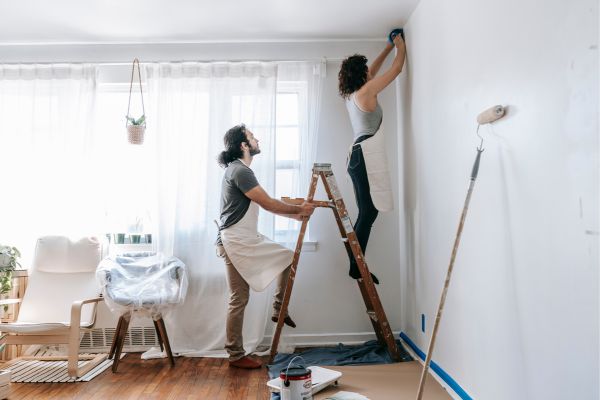 31 Aug

Thinking Of Renovating A Rental Property? Tips For Landlords

When it comes to renovating a rental property, investing your money in the right upgrades will ensure you get maximum return on your investment. A well-renovated rental property usually attracts higher quality tenants and often demands higher rental payments. Unlike a home renovation project that may involve a complete do-up, a rental property can often be updated with a simple lick of paint or a new carpet. If you're thinking of renovating a rental property, here are 3 tips for landlords.
1. Have a clear renovation plan
Before embarking on a rental property refurbishment or renovation, consider what upgrades would increase the value of your property and maximise your rental yield. Here are some tips for improving your rental property's potential without blowing the budget:
A fresh coat of paint does wonders for cleaning up a rental property. Choose neutral colours that will appeal to most tenants.
Replace old and worn-out appliances and install a new dishwasher.
Updating curtains and blinds can transform a room and are a relatively inexpensive way to moderate the temperature inside the property.
Invest in built-in wardrobes to maximise storage space.
Replace or clean up power and light switch covers, door and cupboard handles, and drawer pulls for an easy and cost-effective update.
Clean and tidy the garden and outdoor areas, and prune back trees or shrubs that may be blocking light into the property.
Swap out old carpets for low maintenance flooring such as laminate flooring or replace old carpets with new.
Remember that as a landlord in New Zealand, there are certain obligations your rental property must meet under the Healthy Homes Standards, so ensure your rental property complies with these standards before being rented out:
Heating standard: Landlords must provide at least one fixed heater that can directly heat the main living room.
Insulation standard: Ceiling and underfloor insulation is compulsory in all rental homes.
Ventilation standard: Windows in the living room, dining room, kitchen and bedrooms must be openable. Kitchens and bathrooms must have extractor fans or an acceptable continuous mechanical ventilation system.
Moisture ingress and drainage standard: Rental properties must have efficient drainage for the removal of storm water, surface water and ground water, and those with an enclosed sub-floor space must have a ground moisture barrier.
Draught stopping standard: The property mustn't have unreasonable gaps or holes in walls, ceilings, windows, skylights, floors, and doors which cause noticeable draughts.
2. Set a realistic budget
Once you know which areas you plan to tackle, set a clear and realistic budget of how much you're prepared to spend. Investing in the functional spaces of the rental property will have the biggest impact on your tenant's living conditions and, by extension, your return on investment.
The kitchen and bathrooms are the two key areas in a rental property where it's generally considered worthwhile to spend a little more. However, it's important not to overcapitalise on upgrades and, as a rule, avoid replacing something that can be fixed or repaired. A simple change of fittings or appliances, a lick of paint, an updated splashback, and new flooring are cost effective ways to quickly upgrade an area without spending too much.
Consider how you will pay for your renovation project:
3. Consider your insurance before and after renovations
Landlord insurance is an important consideration for landlords planning a renovation or refurbishment of a rental property. Landlord insurance usually covers damage caused by tenants, loss of rental income, and landlord liability.
Before starting a rental property renovation project, it's helpful to check with your insurance provider or your Insurance Adviser that you have enough insurance cover. You may need to top up your insurance cover and, once completed, review your insurance policy to ensure that you have sufficient cover for the additional value of your property from the improvements you've made.
There are a number of landlord insurance options and policies vary greatly, so getting advice from an Insurance Adviser – such as those at Max Insurances – could help you determine that you're not paying too much for landlord insurance or that you're sufficiently covered should something go wrong.
Renovating a rental property
When planning to renovate a rental property you own, it's important to think about what's practical for tenants rather than imposing your own personal tastes. Carefully planning the improvements and working to a set budget will ensure you maximise your rental return without spending more than you should.
Whether you choose to do a simple update of soft furnishings, carpets and paint, or you're planning a major renovation that will improve your rental property's value, get help with financing your project, accessing the equity in your property, and ensuring it's adequately covered with landlord insurance to protect you against events that could leave you out of pocket. Talk to the lending team at Max Loans about your financing needs.
Apply Now
Find this article helpful? Don't forget to like it or share it on Facebook.