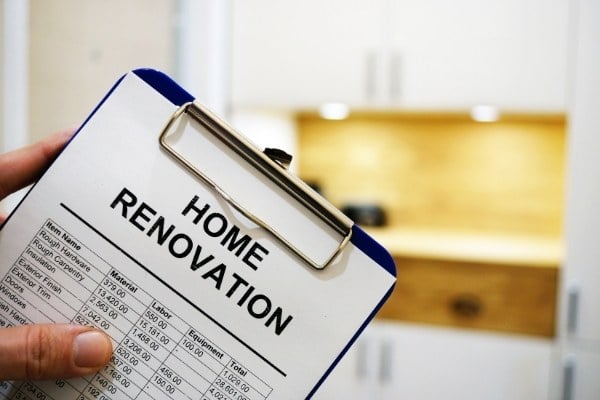 26 May

Home Improvement Loans Save You Money

Renovating your home is an excellent way to add value and grow your equity. But sometimes, trying to save enough money to pay for a home renovation can be a major stumbling block. One way to kickstart your home renovation project – and make it more affordable at the same time – is to use home improvement loans. Here are 3 ways home improvement loans can be used to actually save you money.
1. Affordable financing
When it comes to financing a home renovation or home improvement project, it can be hard knowing which financial solution is best. Some homeowners choose to finance repairs around the home using a credit card. But that can prove costly once interest charges are added. And for bigger home renovation projects or costly repairs, a credit card may not offer enough credit finance to cover the full cost.
Compared to credit cards, home improvement loans offer far more competitive interest rates and terms. And with fixed repayments for the life of your loan, you'll know exactly how much to budget for each month, which makes repaying your loan on time so much easier to manage.
If you have created equity through paying off a portion of your home loan, or your home has increased in value, you may also consider borrowing more on top of your existing mortgage to fund the renovation. While home loan top ups usually offer lower interest rates than personal loans, they typically have longer repayment timelines, which can mean you end up paying more interest over the life of your loan. What's more, a home improvement loan usually offers a fast turnaround time, meaning you can get the funds quicker to start on your renovation sooner. This also means that a home improvement loan can be a great financing option to cover urgent repairs that crop up unexpectedly and need you to act fast.
However, on the other hand, if you are planning a large-scale project and there isn't much room in your monthly budget, a home loan top up might be a better option. If you wish to seek advice on whether a top up may suit you better, our experienced Mortgage Advisers at Max Mortgages would be happy to help. Our Mortgage Advisers can also offer advice on how to structure your top up. More specifically, you can choose to add it to your existing home loan or have a separate home loan that you can pay off over a shorter period. How you choose to structure this with your home loan really depends on your financial situation and goals. To discuss your options, please reach out to our mortgage team today!
2. Improved energy efficiency
Upgrading your home to make it more energy efficient makes good financial sense. Sure, the initial expense may seem excessive, but the long-term benefits and savings of a more energy efficient home will far outweigh the cost. Not only will your home be comfortable all year-round, you'll notice a big drop in your energy bills too.
When it comes to financing home renovation projects to improve energy efficiency in the home, some of the things you could use home improvement loans for include:
Fitting new or upgraded insulation in floors, walls and ceilings.
Installing a heat pump or heating solution ideal for the size of your home.
Putting new carpets on wooden or tiled floors to cut down on heat loss.
Replacing your hot water cylinder with a more energy efficient gas water heating system.
Retro-fitting double glazing to cut out noise and heat loss from windows.
Having new curtains or blinds made and fitted, for a warmer, cosier home.
Installing a home ventilation system to ensure your home stays dry.
Investing in solar panels to create your own energy and eventually moving off-grid!
For more tips on keeping your home warm this winter and improving energy efficiency, check out our other guide on how to get your home ready for winter.
3. Avoid costly repairs
Major repairs when things go wrong in the home can easily run into the thousands of dollars. And while you can't foresee every home repair, regular maintenance could help you avoid some of the more costly ones. That's why it makes sense to use home improvement loans to repair or replace when things go wrong, before further damage results.
Here are some instances where home improvement loans could help you stay on top of home maintenance and prevent costly repairs:
An annual roof check to identify weaknesses in the roof and fix any leaks or cracks before they get worse.
Repair or replace leaking pipes and dripping taps to avoid further water damage or mould growth.
Fix electrical issues. If left unchecked, you could face the risk of an electrical fire.
A fresh coat of paint inside and out could help weatherproof your home.
Unclog blocked drains to avoid flooding.
Clear out gutters to stop water damage on walls and roofing.
Get finance now
When you need cash in a hurry for urgent repairs, home DIY projects, or major renovations, consider using home improvement loans. Instead of refinancing your mortgage to access the cash you need, home improvement loans operate as a completely separate loan. Alternatively, if you wish to increase your home loan to fund the renovation, please contact one of our experienced Mortgage Advisers at Max Mortgages, and we are happy to help.
As one of the most experienced and trusted Personal Lending Advisory businesses in New Zealand, the team at Max Loans are experienced at finding the right home improvement loans to fit your requirements. Contact us today to find out more about using home improvement loans for your home renovation or repair project. Or directly apply online and get competitive loans NZ wide with Max Loans!
Apply Now
Find this article helpful? Don't forget to like it or share it on Facebook.