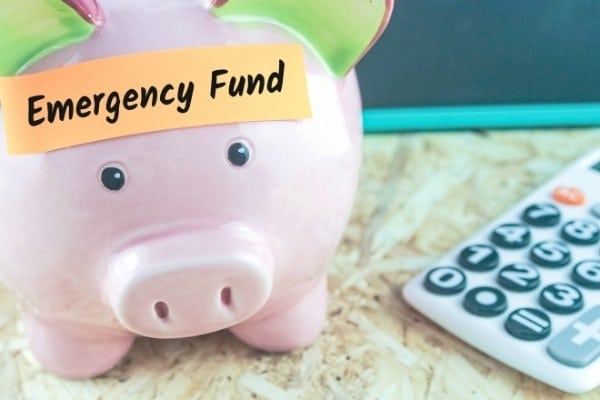 03 Mar

5 Steps To Deal With A Financial Emergency

A sudden and unpredictable change in your financial situation can blindside you, and leave you feeling helpless and insecure about the future. At times like these, it's easy to let stress get the better of you, and react with impulsive decisions that can stretch an already tight budget.

Whether it's through job loss, a medical emergency, an urgent home repair or a pandemic, when an unexpected situation threatens your finances, it's important to know what steps to take to get through.
1. Evaluate the situation
No matter your situation, a financial emergency can hit at any time and in a variety of ways – a job loss, car accident, medical bills or house repairs, even a pandemic. Trying to juggle bills that need to be paid while keeping a roof over your head and food on the table, becomes incredibly stressful in a financial emergency.
The first step to overcoming a financial crisis is understanding the cause. Often by taking a measured look at the situation you're in, you can identify a way to get through it. For example:
If your car breaks down and it's an expensive fix, do you have money tied up elsewhere to pay for the repairs? Or will a personal loan provide the finance you need to get you back on the road again? Or if it's going to cost too much to repair, could car finance help you buy a new car instead?
If you're in a financial crisis because you struggle with emotional overspending, would consolidating all of your debt – and cutting up your credit cards – help you get back on track much faster?
While some financial situations may be more complex than these examples, it's important you grasp the full scale of the financial emergency you find yourself in. Determine how much it's going to cost you to get out of it, and how you'll pay for it without causing further financial hardship.
2. Set financial priorities
Most of us could find ways to cut back on expenses and save money if we absolutely had to. In a financial emergency, when the time comes to cut costs, evaluating expenses and setting financial priorities is an important next step.
Not all expenses are equal – some need to be paid before others, and some are more critical than the rest. To begin, make a list of your current expenses and prioritise your spending on these. Also look for ways to realistically cut costs if possible.
Food – Could you cut back on the cost of food? Eat out less often. Budget better. Or shop with a list.
Mortgage or rent – Are you struggling to meet your mortgage obligations? We understand that sudden changes in life, such as an income reduction due to the global pandemic, can severely affect your repayment capacity. If you need help with your existing mortgage, please reach out to our Mortgage Adviser team at

Max Mortgages

. Together, we can discuss your concerns and explore the options that might be available to you.
Transport – Would public transport or car pooling cost less than driving your car?
Utility and other bills – Would switching providers help reduce costs? Contact your creditors and service providers immediately if you know you'll have trouble keeping up with your bills. They may be willing to defer payments for a short time or provide alternative payment options.
Insurance – When did you last review your insurance? Our Insurance Advisers at

Max Insurances

may be able to help you save money on your insurance premiums while still providing adequate coverage for the things that are important to you.
Routine maintenance – Regular services, routine maintenance – and even regular medical check-ups – could help prevent expensive repairs to your car or home, or costly medical bills later on.
3. Find out what government help is available
The ongoing economic impact of COVID-19 has left many people facing serious financial strain. The New Zealand Government is acting to support the economy and help people overcome financial hardship. If you've been hard hit by the economic impact of COVID-19, find out here what financial assistance you may qualify for.
And be on the lookout for scams and fraud exploiting COVID-19 which could arrive by email, text, phone call or through social media. Find out more about staying safe from COVID-19 scams.
4. Cover emergency expenses with a safe and affordable loan
Setting aside an emergency fund each month, to help pay for unexpected expenses, might make good sense but isn't always possible. When the unexpected happens and you need cash in a hurry, emergency loans could be a great way to cover those costs.
Emergency loans can be used to pay for a range of unexpected expenses: from medical and funeral expenses, house or car repairs, to vet bills, moving costs and school expenses. In fact, just about anything! It's a fast and easy application process, and with quick access to cash and competitive interest rates, emergency loans from Max Loans could be just what you need in a financial emergency. At Max Loans, we specialise in helping Kiwis get access to fast loans NZ wide, without paying more than they need to. To apply for finance, simply fill out our online application form and leave the rest to us! You can also use our online loan calculator to determine how much you can borrow!
5. Plan for the next financial emergency
Once you're on track again, start building your emergency fund. That way the next time something unexpected comes up, you have the finances to handle it. And if you'd like to find out more about insurance cover that reduces your exposure to unexpected financial shocks, Max Insurances can help you with some options.
Ask for help
When you're facing a financial emergency, it can feel like you're tackling the weight of the world on your own. One of the best ways to lighten your financial load is to ask for help.
If you're dealing with financial hardship, contact us today. Our team can help you find an emergency loan that won't negatively impact your credit profile.
Find this article helpful? Don't forget to like it or share it on Facebook.