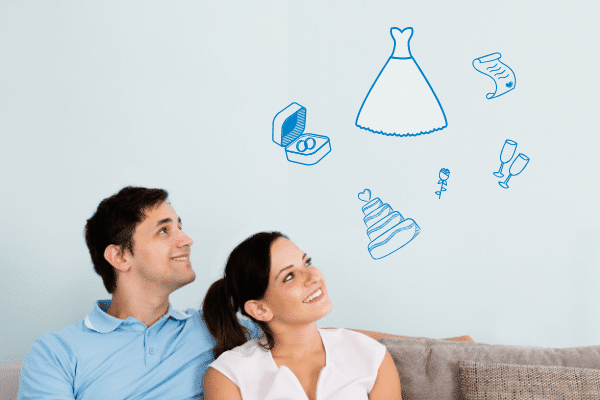 07 Feb

The Financial Stress Associated With Wedding Planning: Here's What You Can Do

Your wedding day should be the happiest day of your life: a day of celebration to be shared with friends and family, and one to be remembered in the years ahead. All too often though, it ends up being one of the most stressful days instead.

Wedding costs can quickly mount up: the venue, catering, wedding dress, rings… It's not hard to see why so many couples spend far more than they've budgeted and end up feeling financially stressed on their wedding day.

If you're planning your dream wedding, we have some tips to help avoid the financial stress that comes with wedding planning.
Set a realistic budget
Your budget is the key factor that influences every decision you make when planning your wedding, which is why setting a realistic wedding budget should be the very first step you take in the wedding planning process. Your budget needs to be your "go-to" document every time you make a wedding-related decision.
When planning a wedding, it's amazing how quickly every little detail adds up: from choosing the venue and menu style, to your dress and shoes, photographer, flowers, rings… The list is seemingly endless!
Whether your dream wedding is a lavish affair in a fancy hotel or an intimate gathering in a back garden, setting a realistic budget helps you map out your wedding-related expenses. To get started on setting a budget, ask yourself these 6 questions:
Who is paying for the wedding?
How much can you and your fiancé or fiancée realistically and comfortably afford to put         aside for your wedding, given your ongoing monthly expenses?
How many guests are you planning to invite?
What one wedding item is at the very top of your priority list?
How much are you going to have to spend to plan the type of wedding that you want?
Does your budget match your expenses? If not, it's time to adjust your expectations.
There's nothing wrong with planning a lavish wedding if that's what you want. With a little creativity and a lot of planning, you can absolutely have a champagne wedding on a beer budget! But just be sure you're not creating a huge financial burden that could take you years to repay.
Prioritise the important things
You may have been dreaming about your wedding day your whole life, but how does your dream day match up with your budget? If the real cost of your dream wedding is way out of your reach, you may need to prioritise the important things and let the rest go.
Setting your "priorities" means choosing the few elements of your wedding that you're prepared to spend a little bit extra on. Is the venue the most important part of your day? Or perhaps it's the fairy-tale wedding dress? Do you absolutely have to have a photographer  and a videographer?
When you're working within your budget – no matter how big or small – prioritise the things that are most important to you and it will help you make decisions on the rest.
To save on costs you could enlist friends and family to help with some of the tasks that would usually require outside help at a cost. For example, arranging the flowers, decorating the venue, and sending out email invites instead of printed copies. Limit your guest list to cut down on venue and catering costs. Hosting a smaller, more intimate wedding could help make your wedding bills more manageable.
Start saving early
If you're paying for all or most of your wedding, having a longer engagement or putting your wedding day off for a year or two could give you more time to save. While not every wedding can be paid for in cash alone, even setting aside half of your estimated budget can help reduce your financial stress and set in place a solid financial foundation for the start of your marriage.
Set up a separate savings account with automatic payments on a weekly, fortnightly or monthly basis. Weddings typically go over budget so be sure to factor in a little extra savings for any changes to plans you may need to make.
If you're short on time and need to book your wedding date in a hurry, you may want to look at other ways to finance your wedding. Rather than using high interest credit cards to pay for things like the venue, wedding dress or the caterers, consider applying for a wedding loan. Max Loans can assist you with loans NZ wide to cover the cost of your wedding.
Ease your financial stress
At Max Loans, we understand that your wedding day is a special day and understandably you want to plan a celebration. That's why we're here to help with a personal wedding loan customised to your requirements. Compared to credit cards, personal loans generally have much lower interest rates. In addition, unlike a credit card where you can always charge more at any time up to your credit limit and then carry growing debt unconsciously, a personal loan can be a great option for those who need help staying on track with finances. With a personal loan, you will know up-front exactly what your repayments will be and when your debt will be repaid, which provides peace of mind that you're spending within your limits, and not setting yourself up for unforeseen debts.
A wedding loan through Max Loans is also available in unsecured form where a borrower can avail loans without pledging security. Unsecured personal loans from Max Loans can be used to cover all wedding-related costs so you can plan a day that's truly memorable. What's more, a wedding loan can be customised to suit your circumstances with the flexibility and freedom to plan your dream wedding. Plus, we can help even if you have bad credit. At Max Loans, we specialise in advising on bad credit loans and in most cases, we can match you up with a suitable lender.
Get in touch with our team today to see what we can offer you.
Find this article helpful? Don't forget to like it or share it on Facebook.