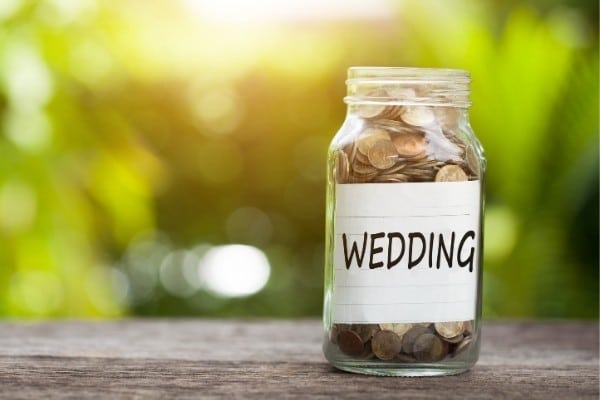 12 Feb

3 Unexpected Wedding Costs To Budget For

Sticking to a wedding budget is one of the hardest parts of planning a wedding. And while your wedding day should be the happiest day of your life, sometimes the perfect day is marred with a shock at the number of extra hidden costs you weren't quite prepared for. If you're just starting out planning a wedding, here are some of the most common unexpected wedding costs, along with a few tips on how to save money to pay for them.
1. Pre-wedding costs
When it comes to wedding planning, creating a budget is the first important step. As well as the usual expenses – like venue, catering, rings and outfits – these are some of the pre-wedding costs you may not have thought about:
Alterations: Whether you buy a dress off the rack or a tailormade outfit, there's a good chance it will need to be altered before your wedding day. To ensure your outfit fits perfectly, build enough money into your budget for any alterations you need to make closer to your wedding day.
Hair and make-up trials: Getting the right look is crucial for most brides (and even the grooms), so leaving some room in your budget for hair and make-up trials before the big day makes perfect sense.
Marriage License: It's an essential part of a legal wedding in New Zealand; a marriage license will set you back $150. There's no way of getting around this one so be sure to include this cost in your budget.
Engagement, Stag and Hen Parties: Some couples choose to cover the cost of pre-wedding events. This extra cost can easily set you back upwards of several hundreds of dollars. To alleviate the burden of the cost of engagement parties and hen and stag-do's, have guests cover their own costs or opt for smaller, less expensive pre-wedding events.
Postage and printing: When it comes to sending out "save the date" cards, invites, and thank you cards, on beautifully printed stationery with postage and packaging, choose budget friendly online invites instead and cut out this extra, unnecessary expense.
2. On the day
With all the excitement of planning a wedding, it's easy to overlook some of the hidden expenses you might incur on the actual wedding day. Being prepared ahead of the time won't leave you facing these out-of-the-blue costs:
A back-up plan: Planning an outdoor wedding leaves you at the mercy of adverse weather conditions, so think ahead with a "rain-plan" and factor in a little extra into the budget for an indoor space or the cost of a tent rental. And if you're planning a summer wedding, leave room in the budget for outdoor fans or portable air conditioning units to ensure your guests aren't left wilting in the heat.
Unexpected guests: Despite your best intentions to limit the number of guests at your wedding, there's usually one or two guests who turn up without an RSVP or with a plus one. As upsetting as this can be to your table settings, plan ahead and arrange extra meals on the off-chance this happens.
Supplier meals: Good etiquette implies that you provide your wedding vendors with a meal and a place setting, so be sure to include in your final numbers the photographer, videographer and any other wedding vendors you've hired to be at your wedding day.
Thank you gifts: You might like to present a small gift or token to parents, bridesmaids and groomsmen, or any others who've helped significantly plan your special day.
3. Post wedding day costs
Wedding planning doesn't end with the big day. A few little extras that still need to be ticked off your post-wedding budget include:
Thank you cards for guests: Don't skimp on sending out thank you notes to your guests. If you're on a tight budget, save on the cost of postage by sending online thank you notes instead of posted cards. It's a small gesture, but it means a lot!
Wedding photo album: The cost of a professional wedding album may seem like an unnecessary expense but for many couples, it's a worthwhile investment in a lifetime of memories.
Dry cleaning and preserving your dress: Having already spent a fortune on your wedding outfit, it makes sense to have it professionally cleaned and then stored correctly to preserve it.
Saving for your wedding day
Weddings are usually once-in-a-lifetime events with costs – some unforeseen – that can easily run into the thousands of dollars. Most couples budget too little for a wedding, and then end up spending far more than they planned. Depending on how big or how small an event you're planning, saving enough money to cover even just the basic costs can seem like an insurmountable goal.
If you've recently said "I do" and you're planning a wedding celebration but don't have quite enough saved up just yet, get in touch with the team at Max Loans to talk about wedding loans. Wedding loans through us can be in the form of either a secured loan or an unsecured loan, meaning whether you provide collateral for the loan or not, we will have a solution that fits. To get an estimate of what your repayments would be like and how long it could take to pay off your loan, please use our handy personal loan calculator. With wedding loans from Max Loans, you can plan that dream wedding and cover all wedding-related costs without any hassle. Book the perfect venue, plan a wedding feast, capture those special memories with video and photos. Customised NZ loans means the choice of how you spend your wedding loan is yours. Directly apply online or give us a call on 0508 629 5626 to bring your wedding plans to life!
Apply Now
Find this article helpful? Don't forget to like it or share it on Facebook.