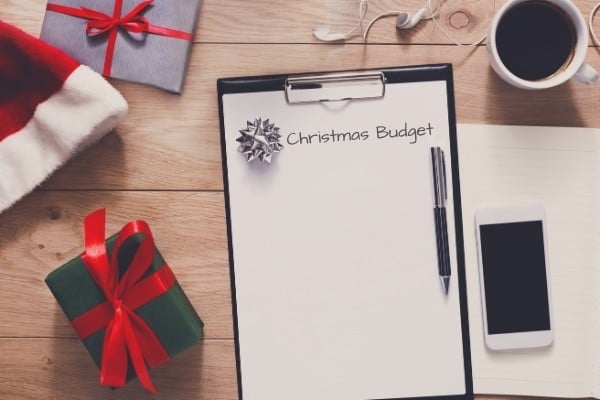 03 Dec

5 Ways To Save Money This Christmas

Christmas on a budget might not sound like a lot of fun, but starting the new year with a heap of debt isn't great either. With a little careful planning and a dash of creativity, it is still possible to have a memorable Christmas without the budget blow-out. Here are our 5 best ways to save money this Christmas, without compromising on your festive spirit.
1. Write a list
One of the most important ways to save money at Christmas time is to plan your spending. That means creating a budget and then sticking to it! Before you shop online or head out to the shopping mall, take a few minutes to write your spending plan, listing who you need to buy for and how much you'll spend on each. To help you stick to your budget, try some of these strategies:
Calculate how much you can actually afford to spend.
Talk to your family and friends about gift giving to determine their expectations.
Prioritise who you're going to buy gifts for.
Set a limit on how much you'll spend on each person.
Avoid using credit cards with expensive interest charges that quickly add up.

Personal loans

may be a better option to help finance the festive season if you don't have the cash. Compared to credit cards, personal loans usually offer far lower interest rates, and are available in both secured and unsecured forms. With a

secured personal loan

, you receive the lowest rate possible as it's protected by an asset as collateral, such as a car. An

unsecured personal loan

, meanwhile, doesn't need you to provide any security, but may have slightly higher interest rates than a secured loan (but still lower than a credit card). Unlike credit cards, personal loans generally have fixed interest rates and terms, so you will have the peace of mind knowing that you're spending within your limits and don't need to worry about getting stuck in unforeseen debt. No stress, no worries!
If you have a large family or group of friends, set a lower spending limit.
Consider only buying gifts for your close family.
Do a Secret Santa where you pick a name and only buy a gift for that person.
Don't forget to factor into your budget extra things like food, entertainment and travel.

Once you've written your spending plan and you're ready to start Christmas shopping, track your spending as you go so you don't end up overspending and going over your budget. There are a few ways you can do this:
Keep a spending notebook handy and write down every purchase you make.
Add up your receipts each week.
Use your phone to keep notes of any spending you do.
Use your bank's online spending tracker, or refer to your bank statements to add up electronic transactions.
Use an online tracking tool.
2. Spend wisely
Sticking to a budget means spending wisely.
Shop online: it's not only super convenient, it can actually help you save money too. Many online stores offer discounted prices for online orders. Shopping around and comparing prices is so much easier when you can browse hundreds of websites with the click of a mouse. And shopping online helps you avoid being tempted by eye-catching displays, and helps you stay focused on buying only what's on your list.
Be on the lookout for sales, special offers and discounts that usually appear at this time of year, and make the most of Christmas sales or better yet, shop early or throughout the year and put gifts away until Christmas.
Use any member discounts or loyalty points you've racked up over the year, and check out social media sites like Facebook Marketplace or Trade Me for deals on new or second hand items.
Consider doing a Secret Santa gift exchange, where each person chooses one family member or friend and buys a gift for that person. Or personalise your gift exchange by giving a homemade gift, something you've helped create – be it baking or crafting, wherever your skills lie.
3. Save on extras
Gift cards, wrapping paper, postage and gift bags can quickly add up to a chunk of your spending at this time of year. So try some of these ways to save money on extras and cut down on waste:
Take advantage of gift wrapping services available at some shopping malls.
Reuse second hand wrapping paper.
Use what you have at home to create your own wrapping paper – like brown paper grocery bags, old sheet music, fabric, newspaper or scrapbook paper.
Send online Christmas cards instead of posting cards to save on postage.
4. Give gifts with purpose
As it's the festive season and a time to focus on others, why not give back by buying gifts with purpose? That could mean supporting a small business or your local café; buying gifts from non-profit organisations that empower local artisans; or simply giving your time to your local homeless shelter or hospice by volunteering, or to a neighbour in your community by helping mow their lawn, run errands or do their shopping.
5. Plan your finances
Planning ahead for the festive season and budgeting for the extra expenses you'll likely incur is the best way to enjoy the season and avoid a debt hangover. Unfortunately, that's not always possible. Life happens… and sometimes we need a little extra help financially.
If you're looking for extra holiday funds or you haven't managed to save up quite as much as you need, you may be able to finance your expenses without having to dip into your credit card and possibly incur expensive interest charges.
At Max Loans, we understand that holidays can be difficult times to manage your finance, and we are here to provide you with a fast and easy way to get loans NZ wide. Depending on your needs and financial circumstances, we can help arrange either a secured or an unsecured loan to help cover seasonal expenses to let you fully enjoy the holiday season. With access to an extensive panel of lenders, we can source some of the most competitive interest rates and loan terms on the market, saving you money over time.
Contact Max Loans to discuss your financial needs
To find out more about secured and unsecured personal loans and to see which type of finance could work better for you, talk to the team at Max Loans.
Find this article helpful? Don't forget to like it or share it on Facebook.