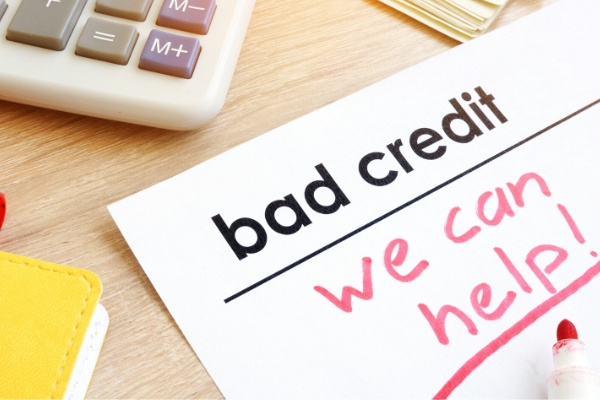 05 Nov

Securing a Mortgage With Bad Credit

In today's market, getting a home loan can be challenging if you have bad credit. Generally, banks are less inclined to approve your home loan application if you don't have a solid credit history. However, that doesn't mean it's impossible to make your homeownership dreams a reality. In this article, we're going to take a look at what bad credit is and provide some strategies to help secure your dream home.
What is bad credit?
Your credit score is a rating based on your financial history and it helps lenders evaluate your creditworthiness. The higher your score, the more attractive you are as a borrower. If you miss a payment on your credit card, default on a loan or enter bankruptcy, it all gets added to your credit history. These can negatively impact on your credit score and are known as bad credit.
How to get a mortgage with bad credit?
If you have bad credit, here are some tips you can use to increase your chances of getting approved for home loans:
Improve your credit score
If you have a low credit score, one obvious way to help you get a mortgage is to improve that score. To do so, you need to know exactly what's in your credit report. You can request a copy of your credit information by contacting a credit bureau. If you spot errors on your credit report, you can request to have them rectified. Examining your credit report and correcting inaccurate information may give your score a significant boost immediately.
In addition, you should also be aware of any negative data you have on your credit report and take necessary actions to address these credit issues, like paying out the balance of your debt and being cautious about opening new accounts. This is a solution that takes longer, however, it's worth taking efforts. A financial commitment as big as a mortgage, even a small increase in your score may help you save a bundle in interest.
Come up with a bigger deposit
Another thing that can make you more acceptable as a borrower is a higher deposit. Essentially, a larger deposit reduces risk for the lender since you will need to borrow less money and have more equity in the home. If you don't have enough savings to put down a deposit, there are still some ways you can get together a larger home deposit. For example, most lenders will accept a deposit if it's a gift from a family member or friend – lenders may require a letter from the person to prove that you are under no obligation to repay the money. To know more about how to get together a bigger deposit, you can seek assistance from professional Mortgage Advisers such as Max Mortgages.
Shopping around for a mortgage
When you look for a home loan, it's vital you compare as many options as possible to ensure you get the best deal, especially if you have an adverse credit history. It's worth noting that too many applications in a short period of time can cause your credit score to drop. One of the best things about using a Mortgage Adviser is that they work with a panel of lenders and can match you up with the right one, so you avoid applying multiple times and potentially being declined by some lenders.
In addition, if the banks turn you down, there are still a number of specialist finance lenders with different criteria that may provide a financial solution to you. In contrast, these specialist lenders are not subject to the same restrictions as banks and may offer more flexible lending products.  Here at Max Mortgages, we work closely with many specialist lenders to find the right loan that fits your individual financial circumstances if you are declined by banks. Once you're on the housing ladder, we will also make sure that you have a clear pathway for getting back to bank mortgages when you are able to do that. We at Max Mortgages aim to build a lifelong relationship with our customers and will help ensure your home loan is always competitive.
Contact a Mortgage Adviser who understands bad credit home loans
Our Mortgage Advisers are Home Loan experts and would like to help you get the right mortgage product even if you have several blemishes on your credit history. Email us or give us a call on 0508 629 5626 to arrange a free, no-obligation chat!
Contact a Mortgage Adviser
Find this article helpful? Don't forget to like it or share it on Facebook.