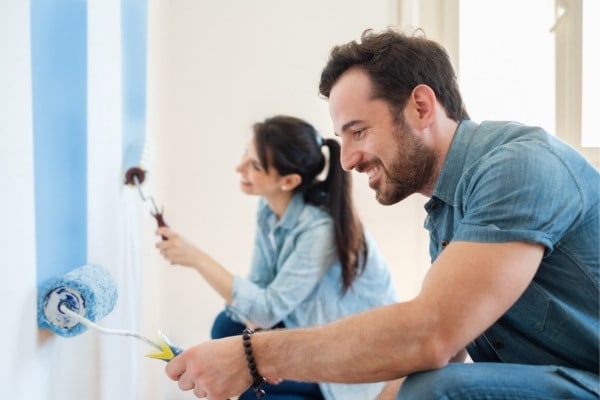 10 Sep

Tips For Summer Home Renovations

If you're looking to boost your home's entertainment potential this summer, start by making some home improvements that can turn your home into a place your family won't ever want to leave. Follow these useful tips to get your summer home renovation off the ground and minimise the drama that often comes with a home improvement project.
Decide what stays and what goes
While home renovations are extremely satisfying, even the savviest homeowners know that they also add value. So start your summer home renovation with a clear idea of what will add value to your home, and what will end up being nothing more than a money pit.
Consider which projects will yield the best return on your investment while still providing you with the home improvements you want, and try to balance your needs and wants so you don't end up renovating simply for the sake of adding value to your home.
Start with the easy stuff: often a small, affordable change can make a big impact when it comes to home improvements and adding value. Think about things like a fresh coat of paint, new countertops or cupboard handles in the kitchen, or an update to the flooring in the bathroom.
Your lifestyle and how much time you spend indoors or outdoors will help you prioritise which areas of your home should be renovated first, and which could be put off until later.
Also keep in mind how long you plan to stay in your home – if you're thinking of selling up sometime soon, you may not recover the cost of big expenses like putting in a pool or a gourmet kitchen when you sell.
Plan your budget well
It's easy to get caught up in the excitement of a summer home renovation project, but the best renovation projects always start with a plan. Planning ahead means you won't have to make costly changes later on.
The logical first step is to determine how much you have to spend and how you will spend it. Once you've decided on your home remodelling ideas, calculate the approximate cost of completing these.
If you're struggling to make your budget stretch far enough, consider applying for a home improvement loan to finance your project. A quick and easy finance solution so you don't have to refinance your mortgage, home improvement loans can help finance anything from a few simple upgrades to those costly new additions.
Talk to specialists like building contractors, plumbers, electricians and designers to get a realistic idea of how much you'll need to spend. Compare prices and quotes then plan your timeline, remembering to factor in extra time for things like supply delays or poor weather.
Minimise dust and debris
Your home renovation project will impact not just the area being renovated, but the space around it too. So before your renovation starts, remember to prepare the space that is being remodelled.
Pack away belongings and furniture, arrange storage for large items, and move appliances and clothing into a makeshift area to make it easier to access each day. Think about how easily items could break and remove fragile items to avoid any damage.
Dust and debris during a renovation is a major inconvenience, particularly if you're still living in your house during the renovation. Try to minimise dust spreading through your house by keeping all interior doors closed, sealing off doorways with plastic sheeting and tape, using plastic runners on carpets, and wrapping cloth around air vents. Consider replacing the filters in heat pumps too once the project is completed.
Keep the kids and pets safe
When it comes to home renovation projects, it's best to keep children and animals out of the project area. Talk to your children about the importance of staying away from work areas or power tools, so that they understand the danger of playing too close.
Cordon off the work area of your home to create a no-go zone for children or animals. If you're doing a major renovation, consider moving out for a short time while the bigger construction is being done.
Create a separate entryway for workmen and ensure it's been cleared of toys, bicycles and other hazards. Plan how you'll use the rest of your house while one section is being remodelled, and ensure you have a safe exit route.
Check that everyone wears goggles and work boots when appropriate. Turn off power and water, and provide adequate ventilation when necessary.
By following a few sensible guidelines, you'll keep your kids, pets, and any workmen or contractors on site safe during a home renovation.
Consider your insurance before and after renovations 
If you're renovating, you probably already have house insurance in place. However, your renovations may not be covered under your policy. Before you start, you should notify your insurer and make sure you have enough cover. It's also a good idea to review your insurance once your improvements are done. This may mean adjusting your sum insured if renovation changes the value of your home. And don't forget to update your content insurance, especially if you've added some expensive belongings and furniture. Your home is likely your most valuable asset, so it makes sense to insure it correctly. Click here to find out the most common house insurance mistakes and how to avoid them. Regularly reviewing your insurance and keeping your policy up to date mean that you will receive the cover you expect should you need to claim.
What's more, you may also be able to reduce your insurance premiums if your renovations help improve your home security, such as installing a burglar alarm or smoke detector. Talk to our team at Max Insurances today to get a free, no obligation insurance quote to see whether we can help you save money on insurance costs!
Turn dreams into reality
Summer is meant for outdoor entertaining and time in the garden. But it's also a really good time to plan those renovation projects you've put off through winter. If you've been dreaming about a home renovation but you don't have the money saved yet, there are several financing options that could be the answer.
Depending on your specific situation and needs, we may be able to help you refinance your home loan, or assist with a completely separate personal loan to make your renovation dreams a reality. If a mortgage refinance fits you better, our team at Max Mortgages would like to help you navigate the complexities of the market and guide you along the path to a successful refinancing. Please reach out to our mortgage team to discuss your needs.
If you don't want to break your existing mortgage, our personal lending team at Max Loans can help you get a home improvement loan to kick-start your projects. Home improvement loans through us usually have competitive interest rates and are available in the form of both secured loans and unsecured loans. If you are in the position to secure NZ loans, get in touch with us and let us help guide you to finding the right financing solution!
Find this article helpful? Don't forget to like it or share it on Facebook.