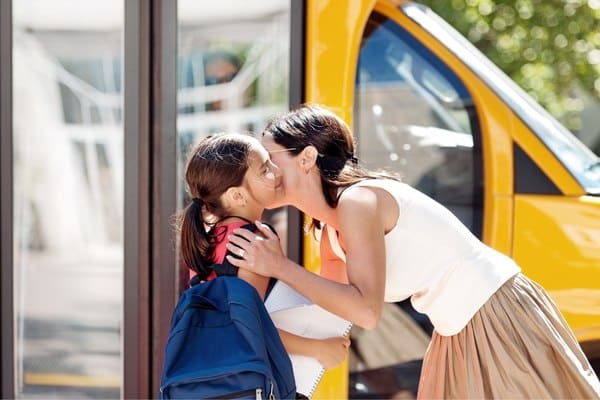 08 Feb

Back To School Financial Tips For Parents

Most parents breathe a sigh of relief at the end of the school holidays and look forward to having children back at school. But back to school can be a stressful time for many parents in New Zealand. The overwhelming cost of school shoes, lunchtime essentials, books and stationery can leave a huge hole in the budget. And with most children requiring a digital device for online learning, it's easy to see why so many Kiwis struggle with already overstretched finances. To help you ease the financial stress, we're sharing our top tips for parents.
1. Make a list
Our first tip is to determine what back to school supplies your child really needs for the start of the new school term. Work together to write a list of the essential basics, things like stationery and school shoes, as well as those items that may be considered non-essential, such as a branded school bag or an expensive range of stationery. Writing a back to school list will help you get organised and ensure you don't miss out any items or overspend on things you don't need.
Here are some things you may want to include on your list:
School uniforms and

school shoes

. School holiday growth spurts or a move to a new school could mean replacing school uniforms and shoes.
Sports gear, tracksuits or sporting equipment – back to school often signals the start of seasonal sports.
Books and stationery – remember to check your child's school supply list for details of these.
A digital device as online learning usually requires access to a laptop, tablet or phone.
After-school activities or after-school care, school contributions or any other school fees that may be due.
Transport costs for public transport or school buses.
Lunchboxes, drink bottles, and school bags.
Upcoming school trips or sports tours.
2. Determine your budget
Working through your back to school list, itemise the costs and add up the total amount you'll need to spend. This will form the basis of your budget. Prioritise each item in order of importance and decide which items need to be bought now and which could be put off until later. Also think about ways in which you could cut costs, things like:
Re-using leftover school stationery: before you start shopping, have a look around at home and see if there are any supplies that could be repurposed.
Borrowing an old laptop or spare tablet from a friend or family member rather than buying your own.
Putting off buying school gear or seasonal sports equipment until your child needs it.
Checking online websites like Facebook Marketplace or Trade Me for second hand sporting equipment.
Digging out any reward points or discount codes that you can use to save spending cash.
3. Shop smarter and save
Back to school costs can quickly add up and many families struggle to cover all of these expenses at the start of a new school term. Fortunately, there are ways to save money simply by shopping smarter. Here are some helpful ideas:
Compare prices online and shop around for back to school deals. Do your research before you head out.
Take advantage of online retailers that offer free delivery to save on the cost of going into the store.
Label school uniforms, lunchboxes, drink bottles and stationery so that any lost items can be returned and won't need to be replaced every year.
Buy in bulk and split the cost with other parents –there's usually a cost saving on bulk bought items.
Buy second hand uniforms from your school's second hand shop or swap uniforms with other families if the sizing works.
Dollar stores are an affordable alternative for stocking up on stationery.
Take advantage of student discounts on digital devices, or shop for refurbished laptops or tablets to save on the cost of tech.
Use loyalty points, rewards, coupons and discount vouchers for your back-to-school shopping wherever you can.
Ask for help
Many families face significant stress when trying to juggle the costs that come with children going back to school. And because many of these costs need to be paid up-front, that can be particularly hard on the budget. It's useful to know there is help at hand.
An emergency loan could provide much-needed relief and reduce financial burden by covering back to school expenses when you need it most. Repayments can be spread out over a manageable period of time, and families know how much each repayment will cost so budgeting is easier.
To find out more about emergency loans, or to see if NZ loans are right for you, contact a Max Loans Personal Lending Adviser today. Don't let the cost of back to school expenses hold you back or lead you to make impulsive decisions that could leave you worse off financially. Get expert advice about loans and make considered decisions about your future finances.
Apply Now
Find this article helpful? Don't forget to like it or share it on Facebook.