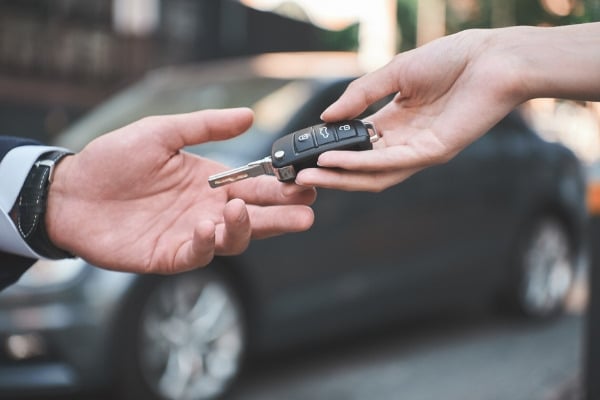 04 Dec

Advantages and Disadvantages of Buying Your Car Privately Versus Through A Dealer

When you're looking to buy a car, there are a number of decisions you'll need to make. The type of vehicle you want and how much you have to spend are just two of those decisions.

You'll also need to choose who you plan to buy your vehicle from: a private seller versus a car dealer. To help you decide, here are the pros and cons to buying a car privately versus through a dealer.
Buying a car privately
There are many advantages and disadvantages to buying a private sale vehicle, meaning the best choice depends on what's important to you. To help you decide whether or not this option could work for you, here are some of the pros and cons of buying a car from a private seller.
Pros:
Because the seller doesn't have any overheads like a car dealer, buying a car privately is often cheaper.
If the seller is in a hurry to sell because they're going overseas or buying a new car, you may be able to negotiate a better price.
The seller may have chosen to sell privately to get a better price than they would with a trade-in. These cars are typically well-maintained and regularly serviced so you can go    through the service records and check any issues that may have occurred over the life of the vehicle.
Cons:
There is no warranty so any repairs that need to be done once you've purchased the vehicle will be your responsibility.
There are no guarantees when you buy a vehicle privately, so you'll need to check the vehicle isn't stolen, there is no debt owing on it, it's not written off, it's registered and has an up-to-date WOF.
There is no cooling off period if you change your mind – once you hand over the money, the car is yours and there's no backing out.
You and the seller will need to handle all of the paperwork including the transfer of  registration and ownership.
Buying a car through a dealer
Choosing to buy from a car dealer can take the pressure off you, as the dealer handles all of the vehicle checks and paperwork. This is just a glimmer of what to expect. To help you make an informed decision that suits your situation, we've outlined the pros and cons associated with buying your vehicle through a dealer.
Pros:
It's easy to review car dealers online before you visit their showroom – helping you separate the bad dealers from those who are reputable.
You may get a warranty or guarantee when you buy from a dealer – or the dealer may offer an extended warranty at an extra cost – so you can buy with confidence knowing that if something goes wrong when you leave the showroom, you'll have some recourse for some time after your purchase.
You may be able to trade in your old car as a down payment for your next car, reducing the amount you have to pay and saving you the hassle of having to sell before you buy.
All of the paperwork is done for you.
Cons:
Prices at car dealerships are typically higher than through private sellers to cover the cost of their overheads.
Some dealers will encourage you to secure finance through their preferred finance provider as they earn a commission for any referrals. Unfortunately, this may not be the best finance deal for you. To find the best interest rate and loan term, it's recommended to shop around and carefully weigh up your options. However, just keep in mind that applying multiple times could lower your credit score and make you an unattractive loan candidate. At

Max Loans

, we are committed to your long-term financial wellness and we care about your credit score just as you do. With access to a wide range of lenders on our panel and intimate knowledge of loan products in NZ, we make it easy to compare and find the best

car loan

that suits your individual needs and circumstances, without negative strikes against your credit score.
While a trade-in is convenient, you may not get the best price for your old car.
An excellent option for car finance
Whether you choose to buy from a private seller or through a car dealer, we at Max Loans would like to help you get a great car loan to put you in the driver's seat. Even if you haven't decided where to buy, we can still help you with a pre-approved car loan. A pre-approval offer is a conditional approval showing one of our lenders is happy to lend you up to a certain amount of money. One of great benefits of getting a pre-approval is that it gives you a clear idea of how much you can spend on a car so you can budget realistically. On top of that, it also provides you with the freedom to choose where you buy your car and puts you in a better position to negotiate the price!
Interest rates for car finance with Max Loans are competitive and fixed which means no surprises and you know exactly how much you have to repay. You can also extend your car loan term up to 7 years to bring down your repayments and make it more affordable for you to buy your dream car.
To provide you with peace of mind and financial protection, we can also help arrange Mechanical Breakdown Insurance on the vehicle, no matter it's purchased privately or through a dealer. Our premiums are competitive and can be added to your loan, so you don't have to front up with the cash. Not the type of car insurance you are looking for? No worries! With access to a wide range of insurance providers, our Max Insurances team can tailor your car insurance to suit your individual needs.  Get in touch with our team today to find out more.
Apply Now
Find this article helpful? Don't forget to like it or share it on Facebook.