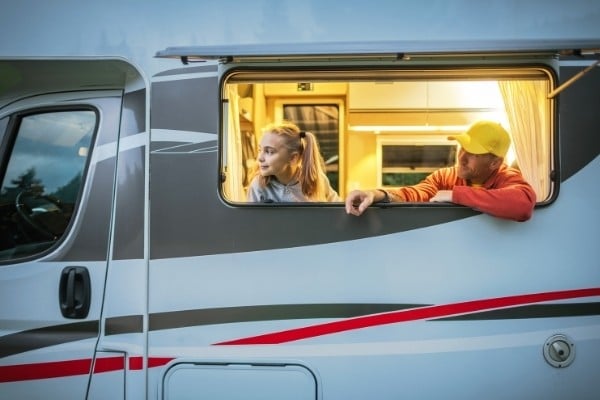 22 Dec

5 Reasons To Go On A Motorhome Holiday

When it comes to planning a dream holiday in New Zealand, you can't go past a caravan or motorhome holiday. The freedom to go where you like. A comfortable home on wheels. And a chance to get off the beaten track and experience nature at its finest. Not only is a caravan or motorhome holiday good for you, it's also one of the most affordable ways to pack in a full itinerary without the financial stress that often comes with planning a holiday. Here are 5 reasons why we think you should go on a caravan or motorhome holiday.
1. Freedom and flexibility
If the stress of daily life and sticking to a schedule is wearing you down, take off on the open road in a motorhome or with a caravan. Forget having to book multiple hotels or even having to plan where you'll stay every night. Simply head off and stop wherever you'd like to spend time exploring. Wake up to a new view every day or stay as long as you like, all without having to unpack or repack. A caravan or motorhome holiday offers maximum freedom and flexibility.
2. Comforts of home
Your motorhome or caravan is so much more than just a bed on wheels: it's your home away from home where you can pack in as much of your creature comforts as you can realistically fit in. These days motorhomes and caravans come equipped with everything you need for a long stay. A comfortable bed, dining area, kitchen, even toilet and shower in the bigger ones. Best of all, there's plenty of storage space so no need to live out of a suitcase your entire holiday. Simply unpack once and then relax. What's more, because motorhomes and caravans are well insulated – often equipped with heaters – you're not limited to travelling in warmer weather only. They're ideal for year-round holiday fun.
3. Budget friendly holiday
A motorhome or caravan holiday is still one of the most affordable ways to travel. No costly flights or expensive hotels: with a motorhome or caravan your accommodation and transport are taken care of in one. Being able to camp, without compromising on comfort, means you have more money to spend on other things, like meals out or excursions. And if your motorhome is self-contained, you may even be able to take advantage of freedom camping sites which don't cost you anything. This type of holiday is perfect for families too and many holiday parks allow pets, so no need to leave your furry family members at home while you're away.
4. Experience nature up close
Travelling by motorhome or with a caravan really lets you experience nature at its finest. Drive where you want to go, stop and take in the beauty of a spectacular view, or set up camp and stay for a night. Freedom camping lets you take advantage of spectacular sites and off-the-grid locations, while many holiday parks and Department of Conservation campsites in New Zealand are located at the beach, close to lakes and rivers, on the edge of forests, or overlooking mountains. You truly are spoilt for choice! What's more, with storage space to spare, take along the bikes or kayaks, enough board games to keep the kids entertained, and everything you need to plan a chef-quality meal.
5. Good for you
Going on holiday is not only good for your mental health – helping reduce stress and calming your mood – it's vital for physical health too. In fact, many studies show that people who take regular holidays have lower stress levels, less risk of heart disease, and a healthier outlook on life. Which is why it makes good sense to have a holiday at least once a year. With a motorhome or caravan, you can do just that without having to worry about the financial cost, the planning involved, or even where your final destination will be.
A holiday on wheels
If the thought of a holiday in your own motorhome or caravan appeals to you, but you don't have the money saved up yet, we would love to help you get out on the road for your next adventure in no time! At Max Loans, we specialise in helping Kiwis arrange loans NZ wide, and our car finance can be used for all types of vehicles from commuter cars to recreational vehicles, including caravans, motorhomes and camper trailers. Our excellent relationships with a wide range of lenders enable us to get your caravan/motorhome financed quick and easy, with the best possible rates and terms on the market! With finance through Max Loans, you can use car loans to buy your dream motorhome or caravan, and ensure you don't miss out on those important holidays.
Pre-approved finance means you can shop like a cash buyer, and with competitive fixed interest rates, you'll know exactly how much you'll be paying each month. Our Insurance Advisers at Max Insurances can also help you insure your new motorhome or caravan, with caravan insurance or motorhome insurance, helping you protect the things you love most.
Apply Now
Find this article helpful? Don't forget to like it or share it on Facebook.