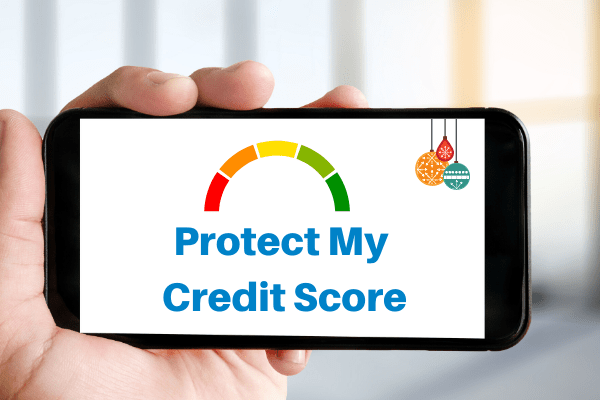 14 Nov

Protect Your Credit Score This Xmas

With Christmas shopping to get through, parties and events to attend, and holidays to plan, it's highly likely your credit score isn't at the top of your list of things to think about during the holiday season.

Unfortunately, getting caught up in the frenzy of the season could harm your credit score, and the negative effects of your overspending can last right into the new year!

To help you protect your credit score this Christmas, so you can enjoy the holidays without having to worry about the long-term effects of a negative credit score, we recommend you take these steps.
1. Avoid maxing out your credit cards
The amount of debt you have and how you manage your repayments are two of the biggest factors impacting your credit score. Maxing your credit cards by overspending at Christmas could harm your credit score and your ability to access affordable credit at a later stage. So too could your credit limit and how close you are to it as you spend more and carry more debt, so it's important you stay on top of your spending.
To avoid maxing out your credit cards, create a budget and then track your spending to ensure you stick to your budget. It's especially important that you plan ahead with a realistic budget over the holiday season as it's easy to be tempted into overspending, not just on buying gifts but in entertaining, decorating or travel over the holiday season. One of dangers with credit cards is that the debt is revolving. In other words, balances change from month to month based on the activities on the card and you won't know exactly how much interest you'll be charged in advance, so it becomes so hard to budget ahead for Christmas. Max Loans often helps our customers with a personal loan to roll up credit card debt. A personal loan is a credit product that you can use for just about any purpose, like debt consolidation, a dream wedding, a family holiday, a vehicle purchase, or a home improvement project. Because of the fixed repayments, with a personal loan, you can spend as you've planned and stay on track with finances. No pressure, no worries! In addition, compared with credit cards, personal loans usually offer far lower interest rates, which means significant savings in the long run.
Applying for a new credit card or several credit cards at once over the holiday season to help you cover the cost of gifts and entertaining could also harm your credit score, as these applications reflect as enquiries on your credit report and too many enquiries could be seen in a negative light by lenders.
Don't be tempted into applying for credit cards that could have a negative effect on your credit score. Talk to Max Loans as we're experienced at helping our clients secure Personal Loans NZ wide and can help you stay on top of the things that could negatively impact your credit score, so you're always in the best position to secure approval.
 2. Don't miss your repayments 
Keeping on top of your bills over the holiday season can be a challenge but those Christmas shopping sprees need to be paid back at some point. As your repayment history is an important factor in determining your credit score, it's vital you avoid missing repayments or making late payments over the holidays.
A missed repayment more than 30 days overdue or over $100 – be it a phone or electricity account, a credit card or a loan repayment – can stay on your credit report for up to five years and seriously affect your ability to access affordable credit.
Set up automatic payments to ensure you don't miss a payment deadline and pay at least the minimum amount due. Ideally, you want to more than the minimum so you can reduce your debt faster and pay less interest. Get organised by setting reminders in your calendar to warn you of due dates and track your credit card spending so you know how much you'll need to repay on the due date.
 3. Watch out for fraud
Sadly, the number of fraudsters taking advantage of consumers seems to increase over the holiday season. By giving out your personal information such as birthday, full name and address in order to get special online offers, you could be setting yourself up for a scam. Be vigilant at all times – if it looks too good to be true, it probably is!
Check your credit card statements and account regularly for charges that you didn't make and contact your service provider immediately if you spot any inconsistencies. Be aware of the information you're supplying online and check that the websites you're subscribing to are legitimate.
4. Check your credit report
By regularly checking your credit report you'll be able to quickly identify any mistakes that could lower your credit score. You can request a free copy of your credit report from any of these three reporting bureaus: Centrix, Illion and Equifax.
When you check your credit report, look out for entries you don't recognise and report any errors to the credit reporting company. Under the Privacy Act and the Credit Reporting Privacy Code, credit reporting companies are obligated to ensure all information they hold is correct.
If you find an error, the reporting company will check the error with its source, highlight the item in your report to show you've questioned it, and ultimately make a decision on the error.
Get the credit you need when you need it
If you have already overspent and maxed out your credit cards or you have a negative credit score, there are still ways for you to access credit to cover those one-off expenses like the upcoming holiday season.
Max Loans specialises in assisting our clients with Personal Loans NZ wide letting you access the finance you need, when you need it. Even if you have bad credit, you may still qualify for a competitive loan with the help from us. These options are ideal for covering short-term expenses like Christmas expenditure.
To find out more or for personalised financial advice tailored to your situation, contact Max Loans.
Apply Now
Find this article helpful? Don't forget to like it or share it on Facebook.